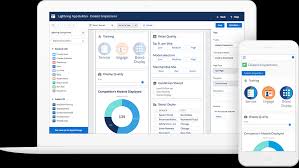 About Salesforce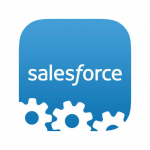 Before Salesforce showed up on the scene, businesses large and small were responsible for launching their own Customer Relationship Management (CRM) solutions – often hosting them on their own servers internally.
This kind of deployment could take months if not years to get right, there was no such thing as universal CRM standards, and most of them were very frustrating to use with a lot of salespeople choosing to forgo them completely.
In 1998 the idea for Salesforce was created by a former executive at Oracle working in partnership with a couple of other software developers. The company was officially founded in 1999 (about six months after the idea was conceived of), and by 2004 the company went public with an IPO that raised just over $110 million. 
Today, Salesforce is one of the most popular (if not THE most popular) CRM platforms on the planet. More than 35,000 employees worldwide serve CRM tools to hundreds of thousands of businesses and today Salesforce is worth somewhere north of $15.6 billion.
What Does Salesforce Offer?
The bulk of these Salesforce offering is the Salesforce CRM itself, a Software as a Service solution that handles CRM needs with a lot of extendibility, extensibility, and an API that allows for easy plug-in access.
The CRM itself is useful and feature-rich (not to mention easy to implement across the board), but the fact that it allows for so much extendibility through that API really takes it to the next level. A lot of sales support companies and services in the industry design applications and extensions with Salesforce support in mind.
The company also offers the Lightning Platform, the Community Cloud service, provides Work.com social performance management tools, and a host of other business and enterprise focused support solutions through the Software as a Service model.
Why Salesforce?
Salesforce is far and away the biggest tighten on the block when it comes to CRM platforms, with the most features, the most extensibility, and the most third-party development as well.
The user interface is straightforward and simple to use, deploying the Salesforce CRM is elegant and efficient, and there is a hands-off kind of administration process that simplifies things even more so.
On the flip side of things, Salesforce definitely is one of the more expensive CRM platforms on the market today. It may not be ideally suited to freelancers, small businesses, or midsize organizations that do not need these robust enterprise and multi step sales process tools.